Additional call: The ACF announces call of Strategic projects for strengthening human rights in Latvia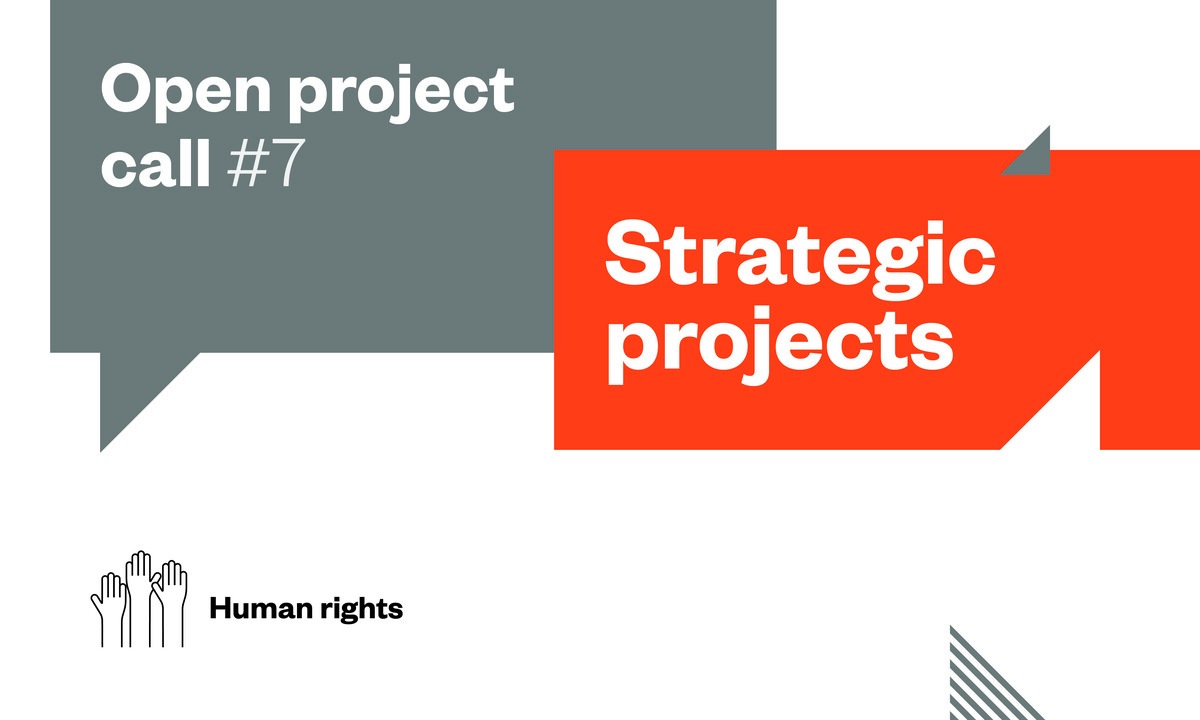 From 22 March to 7 June, 2022 (2.00 p.m.) Latvian civil society organisations (associations and foundations) are invited to submit project applications for strengthening human rights in Latvia.
The deadline has been extended to June 29, 2022 (2.00 p.m.)!
The aim of the call is to provide support for human rights related activities in Latvia, and each project has to create positive changes in one of the following three directions:
increased share of people in Latvia who are favourable to human rights;
600 victims of discrimination and human rights violations benefiting from services provided by supported CSOs in Latvia;
decreased share of people in Latvia who do not know where to find help in cases of discrimination
Project may include activities that promote public awareness about human rights (campaigns, educational classes, cross-cultural activities and others) and foster capacity of civil society organizations working in the field of human rights (interest representation, services for victims of human rights violations and discrimination, researches etc.). The project can also include activities to strengthen the capacity of the organisation if such activities are necessary to achieve the objective of the project.
The total budget available for this call is EUR 374 431 and the amount of the grant for one project is EUR 40 000 to EUR 105 000 (the financing of the ACF covers up to 100% of the total budget of the project). Projects must be implemented between 01.09.2022. and 30.04.2024., with a duration of 18-20 months.
Each applicant may submit and implement an unlimited number of projects, but one organisation may not receive more than EUR 138 000 from the ACF for the entire duration of the fund until 2024. The project application must only be submitted to the ACF online system projekti.activecitizensfund.lv and must be completed in Latvian.
Organisations wishing to implement the project in cooperation with partners from donor countries (Norway, Iceland and Liechtenstein) may apply for compensation of travel expenses of partnership visits by completing the application form and submitting it to the ACF by 24 May, 2022, 2.00 p.m. More information and application form: https://www.activecitizensfund.lv/lv/jaunumi/aif-news/support-donor-organizational-engagement-aif-projektos.html
ELIGIBLE APPLICANTS
Any association and foundation registered in Latvia that meets the conditions of the call is entitled to participate in the call (see Chapter 2.1 of the guidelines of the call for the full list of requirements) may participate in the call. We call for particular attention to be paid to the following:
an average annual turnover of at least 15 000 euro in last two years;
has been registered in the Register of Associations and Foundations before 07.06.2020.;
has transparent and open operating and governing structures – it publishes its annual reports, information both about members of the governing and executive bodies and procedure for becoming a member of the organisation.


SUPPORT FOR APPLICANTS
Informative seminar on the call will take place on march 31, 2022 at 2.00 p.m. (ZOOM Apply until March 30, 2.00 p.m. https://ej.uz/AIF_Semin_Cilvektiesibas
Individual consultations about the call and preparation of project applications provided by the regional coordinators in the whole Latvia.
Consultations about partnership with donor countries: 

This email address is being protected from spambots. You need JavaScript enabled to view it.

Information about Strategic projects already supported by the ACF can be found in our website Approved projects and our YouTube channel.


GUIDELINES FOR THE CALL, ANNEXES AND STANDART MODELS OF USEFUL DOCUMENTS
Project application sample (only for educational and informational reference) LV
A model of standart project financing agreement LV
Subscribe to newsletter!
Don't miss important news, get them directly to your e-mail.