The ACF announces the call of organisational grants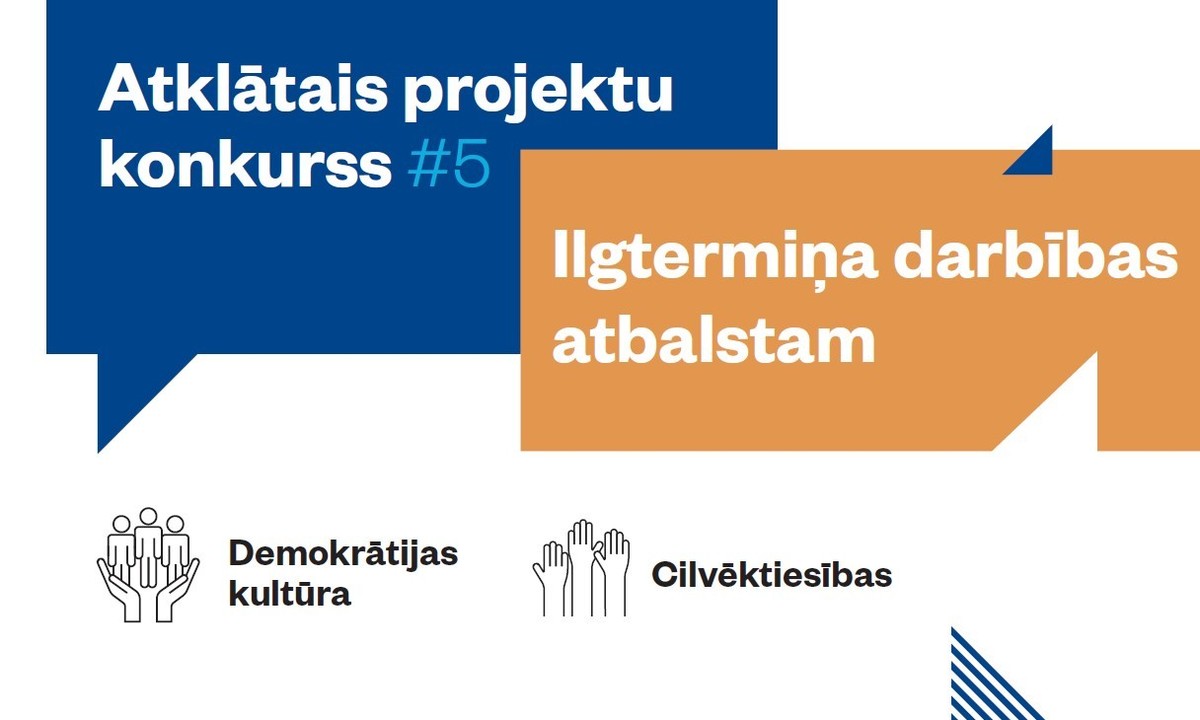 In order to try a new approach of supporting associations and foundations, which could become the basis for the work of the Active Citizens Fund (ACF) in the next period, both in Latvia and Europe, the Latvian ACF launches the call of organisational grants and invites experienced and financially strong organisations with an average annual turnover of at least EUR 80 000 and multi-annual action plans (strategies) to submit applications.
Applications can be submitted from 2 July to 6 September (14.00) via ACF online system project.activecitisensfund.lv. Seven most appropriate organisations will receive a grant of €100 000 to implement activities and reach objectives, targets and results set in their operational plans (strategies) in aspects related to the objectives and results of the ACF in Latvia.
Note: Application deadline extended until 27.09.2021. (14.00)!
The organisations receiving the grant will have to use it in 2022 and 2023 and shall report by submmiting their annual reports and providing the ACF full access to data concerning their activities and related costs.
As the allocation will become a part of the organisation's budget, only financially strong organisations having experience with grants of equivalent or larger amount can apply in the call. Organisations should also justify that their future income will be sufficiently equal. Similarly, organisations which have already received more than EUR 38 000 from the ACF cannot participate in the call, as a condition that one organisation cannot receive more than EUR 138 000 from the ACF also applies to this call. Please note that organisations which will receive this grant will no longer be able to participate in other ACF calls during this period, except the awareness-raising campaign.
To provide additional information for potential applicants, the ACF will organize an informative seminar on 16 July, at 10.00, Zoom (apply here). Meanwhile, for those who will prepare applications and will have specific questions, questions and answers session will be organised on July 28, at 14.00 – 16.00 (apply here).
The conditions of the call are based on the guidelines provided by the EEA/Norwegian Grant Financial mechanism Office for testing the new approach. The ACF has previously informed about the decision to participate in the testing phase of the new approach (read more here).
Eligible applicants
Projects can be submitted and implemented by civil society organizations registered in Latvia who meet all the requirements of  this call (please see full list of requirements in the section 2.2.). We invite to pay particual attention to the below mentioned requirements:
organisation must have core activities in one of following areas of support:

democracy, civic participation, good governance and transparency;
human rights and equity, avoiding any discrimination based on race or ethnicity, religion or faith, gender, invalidity, age, sexual orientation or gender identity;
social justice and inclusion of vulnerable groups.

organisations has been legally registered before September 6, 2018;
organisation has average turnover of at least 80,000 euro over the last three completed financial years (2018–2020); 
organisation has a multiannual organisational workplan and/or strategy covering a total period of at least 3 years un core activities and multiannual workplan (strategy) is consistent with and significantly linked to the achievement of the objective and at least one indicator of the outcome "Democratic culture";
organisation has experience with implementing a multiannual organisational workplan/strategy for at least one year immediately prior to submitting their application;
organisation practices regular monitoring of its work and evaluation of achieved goals and results;
organisation has a transparent and open operation and management structure.
Support for project applicants
Informative seminar on July 16, at 10.00  (ZOOM) which will be led by Inese Siliņa (AIF Program Director) and Ansis Bērziņš (Financial and Grant Supervision Manager). Apply until July 16, at 8.00 - https://ej.uz/IDA_sem.
Question and answer session for project applicants on July 28,  at 14.00 – 16.00. Apply until July 26 - https://ej.uz/IDA_pecpusdiena.
Individual consultations on call and preparation of the projects are provided by reģional coordinators – consultants in all Latvia.
Guidelines for the call, annexes and useful documents
Subscribe to newsletter!
Don't miss important news, get them directly to your e-mail.