Strategic projects: The ACF announces the call for Strategic projects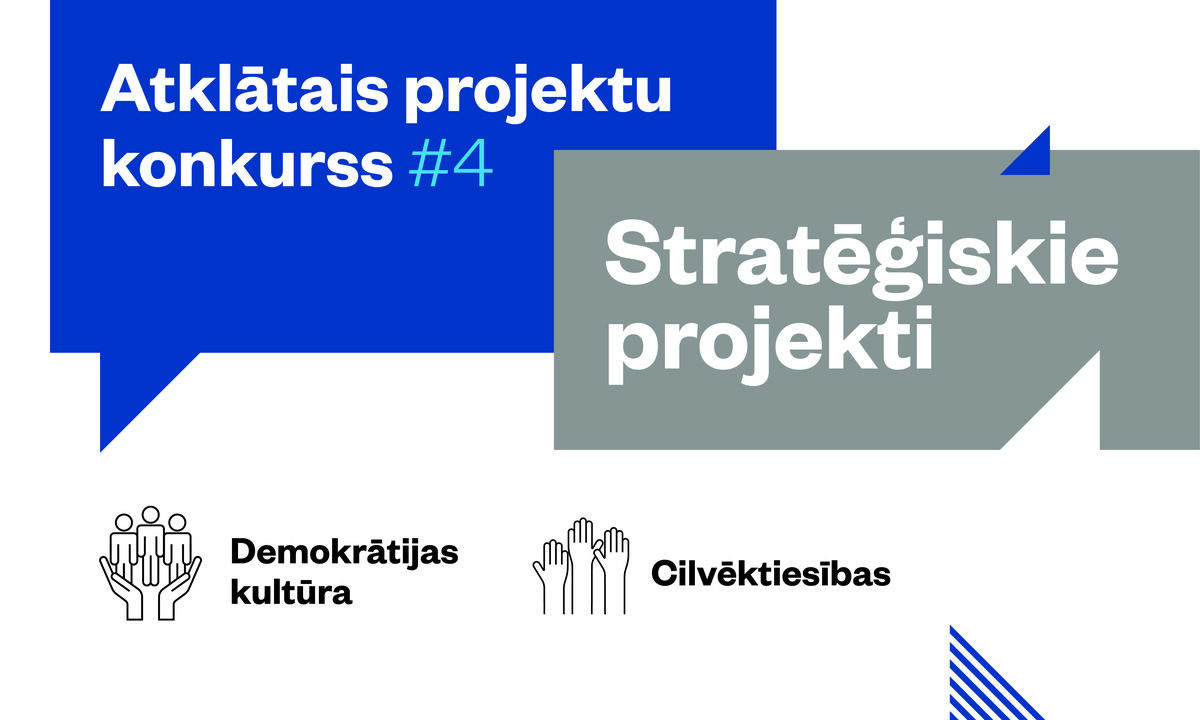 By 6 September, 2021 (14.00) civil society organisations (associations and foundations) are invited to submit projects in the second ACF Strategic project call in the outcomes Democracy Culture and Human Rights. Projects should be submitted in the online application system of the Active Citizens Fund.
Note: Application deadline extended until 27.09.2021. (14.00)!
This is the fourth call of Active Citizens Fund project proposals and it focuses on the projects which contains set of activities to ensure long-term positive impact on strengthening the democratic culture or human rights in Latvia and where applicant demonstrates their strategic approach and ability to achieve these changes.
The goal of the program "Democracy culture" is to strengthen democratic culture and civic awareness in Latvia. The program will support activities that enhance public awareness about democracy (campaigns, educational activities), promote citizen engagement in civic activities (developing co-working skills; citizen, youth engagement and empowerment of vulnerable groups) and reinforce watchdog and advocacy roles of civil society organizations (participation in decision-making processes, researches, availability of information etc.).
The goal of the program "Human rights" is to enhance the understanding of Latvia society about human rights. The program will support activities that promote public awareness about human rights (campaigns, educational classes, cross-cultural activities and others) and foster capacity of civil society organizations working in the field of human rights (interest representation, services for victims of human rights violations and discrimination, researches etc.). Projects including educational awareness-raising activities on human rights (formal, informal education) and/or intercultural dialogue initiatives to raise awareness and tolerance for Latvian minorities will receive additional points in specific quality criteria.
Each applicant may submit and implement an unlimited number of projects, however ACF grant for one organisation within the entire duration of the fund until 2024 can not receive more than EUR 138 000. The project application must only be submitted to the ACF online system projekti.activecitizensfund.lv and must be completed in Latvian. We draw attention to the fact that a operational grant of EUR 100 000 to support multiannual activities of organisations is planned to be announced between 28 June and 2 July.
Amount of the grant: 40 000 - 105 000 euro
Total funding available: 1 042 420 euro
ACF funding: up to 100%
Project duration: 24 - 30 months
Project implementation period: 01.11.2021. - 30.04.2024.
Eligibile applicant: any association and foundation registered in Latvia that meets the conditions of the call is entitled to participate in the call. Furthermore, an association or a foundation should have:

a strategic vision how to reach long-term positive impact and changes in its area of action by strengthening democracy culture or human rights in Latvia;
a transparent and open operating and governing structures;
an average annual turnover of at least 20 000 euro in last three years (2018-2020);
the core operations of the organisation is focused on one of the ACF supported areas;
to be registered in the Register of Associations and Foundations before 06.09.2018.
SUPPORT FOR PROJECT APPLICANTS
Informative seminar on the call will take place on July 05, 2021 at 10 a.m. (Zoom platform). It will be led by the director of the ACF programme Inese Siliņa and the Financial Manager Ansis Bērziņš. The recording of the seminar will be available on the website www.activecitizensfund.lv.
Apply by July, 05 (08:00 a.m.) https://ej.uz/AIFseminars  
Strategic project workshops will take place throughout Latvia from July 19-23. During these workshops participants will be able to identify the work of their organisation and its relevance to the objectives of the ACF and the programmes "Democracy culture" and "Human rights", to realise their and the organisation's existing resources and the way they can be strategically used to reach the objectives of the organisation and strategic projects as well as to structure desires, needs and existing ideas within the framework of strategic project call. More details about dates and application will follow.
Individual consultations about the call and preparation of project applications provided by the regional coordinators in the whole Latvia.


GUIDELINES FOR THE CALL, ANNEXES AND STANDART MODELS OF USEFUL DOCUMENTS
Subscribe to newsletter!
Don't miss important news, get them directly to your e-mail.