Approved projects: Capacity projects in programme Sustainability and capacity
About project
Executer

:

Vidusdaugavas NGO Center

Project title

:

Improving activity of the Vidusdaugava NGO Center

Regions of execution

:

Zemgale, Latvia

Project budget

:

19 999.58

Project status

:

Active

Cooperation partners from donor countries

:

Long live the countryside, Iceland

Project contact person

:

Agita Pleiko, e-mail: pleiko@inbox.lv, F: +371 29449622
Project business card
Project news
Created materials/resources
The aim of the project is to promote the development of the association "Vidusdaugava NGO Center" as a network of non-governmental organizations and active citizens by long-term planning, investing in human resources development, supporting the quality management of changes to achieve the intended results. Four activities will be implemented: development of a long-term strategy for the period until 2024; educating the management team of the association and the leaders of the most active member organizations on high-quality management principles and strategic planning of the organization; evaluation of the services provided by the association for their improvement with the development of a development action plan for the improvement of sales, including mobile devices; a set of measures to promote the association as an NGO network. The project activities will take place in cooperation with the Icelandic non-governmental organization "Landsbyggðin lifi" ("Long live the countryside"), organizing both online meetings and staff / volunteer exchange meetings in Latvia and Iceland.
As a result of the project, the association's ability to achieve its defined goals will increase, because the evaluation of the provided services and development planning will improve the association's economic activity, thus reducing the dependence on project financing; the public will be better informed about the activities of the association, as the structural changes of the organization completed during the project will function and informative materials with the new visual identity will be developed; the association will have defined strategic goals for the next period until 2024 and started to implement a plan to achieve them; at least 18 NGO senior managers and leaders under the guidance of a professional lecturer will have acquired the knowledge of organizational management for their daily application.
Capacity building Vidusdaugava NGO Center: we have changed!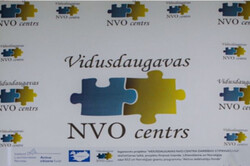 27.01.2023
Association "Vidusdaugava NGO Center" (VDNVOC) in the period from May 2021 in cooperation with the Icelandic partner - the non-governmental organization "Landsbyggðin lifi" (English "Long live the countryside"), based in the Icelandic city of Reykjavik, implemented the project "Vidusdaugava NGO Center action strengthening', funded by Iceland, Liechtenstein and Norway through the EEA and Norwegian grant program 'Active Population Fund'.
During the project, four activities were implemented, as a result of which the capacity of the association grew in different ways. All planned activities have achieved excellent results.
Read more
Subscribe to newsletter!
Don't miss important news, get them directly to your e-mail.